---
Who am I?
Varanis daughter of Serzeen
Sometimes known as Vareena Colymar1And sometimes Ranie
Tribe, Clan, Class
Noble of Clan Saiciae, Nochet
Adopted into the Blue Tree clan, of the Colymar tribe
Family Tree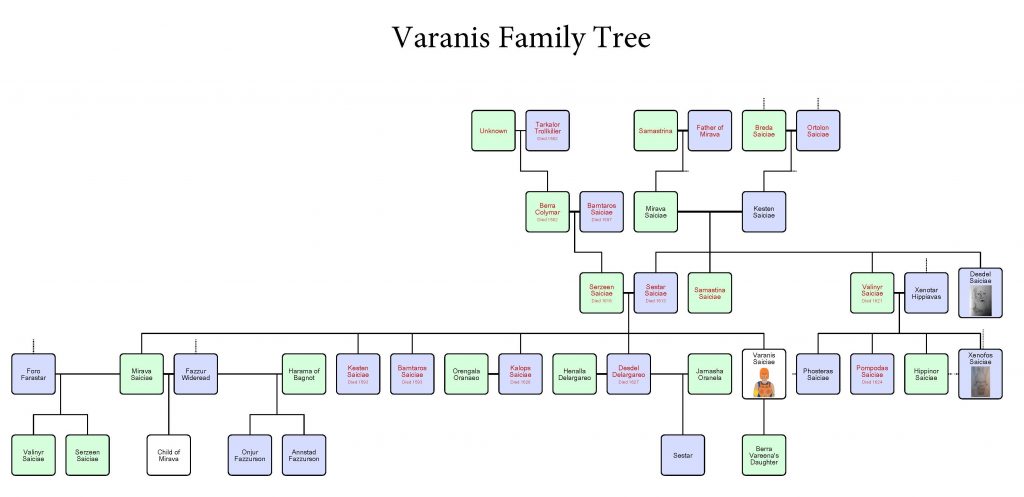 Appearance
Varanis is a red-haired woman, tall for an Esrolian (1.8m). Her eyes are a light grey-blue, but her expression is serious. She has the thin line of a scar high on her right cheekbone, a reminder of past events that she prefers not to discuss.
She wears high-quality Esrolian bronze armour, with the Air and Mobility runes chased in silver and garnets inset within the runes. When not in armour, she wears silk garments, favouring the colour green. She appears to be equally comfortable in both.

Her forearms are encircled by repeated rune tattoos – Water on the left, and Mobility on the right. In the centre of her chest there is a large Air rune tattoo. On her upper right chest, beside the Air rune, she has the Saiciea tattoo. Her tattoos are complicated and multi-coloured, implying the hand of an artist. Above her navel, in monochromatic blue, is a large tattoo of a tree. At the heart of the tree is an Air Rune, a tiny Earth rune sits at its base. To either side of the trunk there are Mobility and Water runes. The tree is topped by a Mastery rune. The Colymar tribal tattoo runs from her right shoulder to her elbow. On her throat, over her jugular, there's a tiny woad death rune tattoo. For the truly observant, the inside of each wrist is marked with woad tattoos with the runes for the Lightbringers and Sartar. These runes are almost always hidden under armour or gold cuff bracelets. On the back of her right hand she has a Fire rune surrounded by 4 Air runes and on her left, a raised air rune, all tattooed in woad.She uses woad to paint Air and Mobility runes on her face.

Hides
Nine hides in Esrolia, presumably provided by House Saiciae. Location?
Blue Tree (1626, from Kallyr)
Hide with tenants (40 L. income)
Hide (40 L. income)
Greyrock (1628, from Kallyr)
Hide with river and bridge (58 L. income)
Fertile plains (40 L. income)
Hides in Lunar Tarsh? Say it isn't so!
As of Storm Season 1628, Varanis still does not know that Mirava and Fazzur arranged for some narrow, probably mostly useless hides of land to be assigned to Varanis in Fire Season (see Back2Life, Back2Reality).
Horses
Doqeia and Manasa were a gift from Varanis' brother, Desdel. They are temperamental, but she is too stubborn/proud to admit that she can't handle them well. Irillo helped her to buy Fish when she needed to replaced her very reliable zebra, Zukko.
Doqeia (Daron, black, mare)
Doqeia is temperamental: a bit wild, a bit unruly. Her moods shift quickly – sometimes she prances about and other times she wants to rebel. She's strong, fast, and willing to go, but sometimes spooks at stuff that's not there. She tends to get along with others, though she may bully them a bit. Doqeia is not interested in stallions.
STR 26
CON 15
SIZ 28
POW 9
DEX 11
Illusion 82, Death 78, Movement 75
Manasa (Daron, black, mare)
Manasa is a bitch. She'll bite sneakily, tread on toes, and wait for vengeance. She kicks in her stall, is lazy, but at least she can mostly be trusted in a city and will make her way home. She's a problem-solver and will always find a weak spot to break things. She's steady and grounded, but vicious because she wants to be, not because she's been hurt. She doesn't panic. She's steady. But she's never going to stop pushing her personality on others and kicking out just to kick out.
STR 27
CON 16
SIZ 28
POW 16
DEX 10
Disorder 84, Stasis 83, Death 74
Fish (Daron, black, gelding)
Fish has a mean streak a mile wide. He'll bite, kick, and buck when he's in the mood for it, and he's in the mood for it frequently. He has nearly succeeded at killing Varanis more than once. He is definitely destined for sacrifice at some point.
STR 24
CON 16
SIZ 28
POW 12
DEX 10
Air 85, Disorder 79, Death 62
Complications
Living in Glorantha is complicated, especially for budding heroes.
Potentially spoilery bans
History Prior to 1625
Character generation interpreted
My maternal grandmother, Berra, was a Sartarite noblewoman of the Colymar and a fierce warrior. She died before I was born, so I was raised on stories of her ferocity in many campaigns against the Lunars and of her glorious death at the Battle of Grizzly Peak. I'm told that my red hair and light eyes come from her. Grandmother's Esrolian husband, my grandpa Barntaros Saiciea, died saving my mother from assassins (1597).
My parents met and married in 1589. They had 6 children, but only two girls. My sister is the first child and I am the last. I was somewhat of a surprise, born late in my mother's life and ten years after my closest brother (1604). I was daddy's girl. I followed him everywhere, but when I was 9, he left to join Starbrow's Rebellion and never returned home. Later we learned that he was killed by Tusk Riders en route. A few years later, my mother died too. She was killed fighting against Harrek the Berserk and his Wolf Pirates, when they attacked the Holy Country Navy (1616)
My siblings had all grown, but I was cared for by my father's parents. I didn't get along well with Grandma Mirava, though I tried to be respectful. She's a priestess, after all, but she tried to tame the anger in me through meditation and prayer. I learned restraint and good manners from her, but both are prone to slipping when I get riled up. Grandpa Kesten understands me better and it is he who took me to the temple of Orlanth to be introduced to the priestess of Vinga.
When I was 18, I was attacked by Lunar assassins. I survived, but barely. I was healed of my wounds, but the priestess of Vinga who saw to it left me with a reminder for my carelessness.
In 1623, like thousands of others, I was trapped in the city of Nochet under siege. On the basis of my ancestry, I asked to fight alongside King Broyan, the exiled Sartarite king. I fought hard, seeking to bring honour to my clan and my Goddess and I was privileged to earn some recognition for my contributions during the siege. I stayed with King Broyan and the remnants of the Holy Country army, and found myself at Pennel Ford the following year. I fought and lived, and some have said that I brought honour to my clan in this battle as well.
Afterward, I pledged my loyalty to Prince Argrath as the White Bull and to Jaldon Goldentooth. I wanted nothing to do with Harrek the Berserk – I haven't forgotten my mother and I never will. I followed my Prince to the strange lands of the Praxians and assisted in the liberation of Pavis. They call it a city, but it can't compare to the city. The Lunars built a temple nearby, at Dragon Pass. It could not be allowed to stand and so we marched against it, a strange mix of Praxian warriors and veterans from across the varied kingdoms of these lands. They sent foul demons against us and I was sorely injured in the attack. Much to my chagrin, I slept through the waking of the dragon and her consumption of the cursed Lunar Temple. Having recovered from my wounds in body, but perhaps not entirely in spirit or ego, I have returned to my family's holdings in Nochet for the time being. I am determined to find a way to recover myself and bring honour to my family.
---
Stories from the Past
The following are a mix of role-play logs and stories to help with character development.
1613-18: City Girl, a story of growing up Vingan in Esrolia (9-14 years old)
Current Events
The following logs are sorted chronologically by year and season. These predominantly emerge from text-based role-play.
Berra and Berra

The morning of Windsday passes and a message is sent to the Humakti Temple for Initiate Berra. 'Your friend has birthed a healthy child. She is well. Please don't bring Death to the Earth Temple.' A day passes without Berra. The next brings a written message for Varanis. Lord D'Val's greetings to Thane Varanis. Initiate Berra ...

Baby Talk

1627, Storm Season, Truth Week: Varanis asks Venlar for some advice regarding raising baby Berra, who is about 2 weeks old.

Baby Berra's Mother

1627, Storm Season, Truth Week: Varanis asks Yehna if she would mother Baby Berra. She is surprised by the answer.