---
Who am I?
Mellia Kirse's Daughter
Tribe, Clan, Class
Noble healer of House Saiciae, Nochet.
Family Tree

Appearance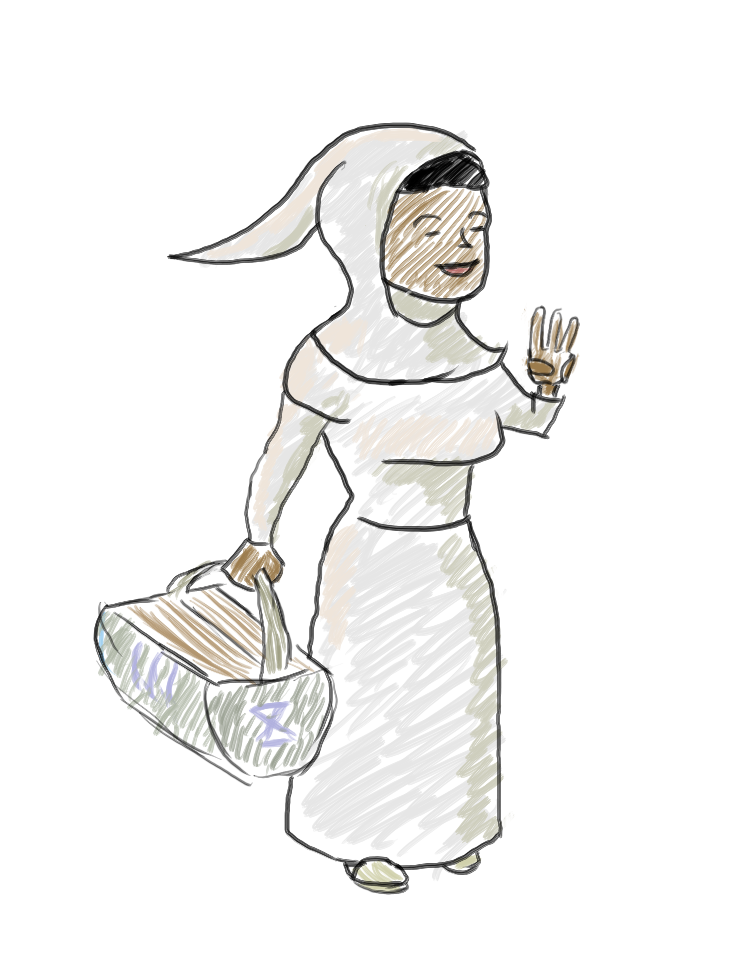 Mellia looks very Esrolian, with kind brown eyes. Her dark brown hair is often in simple braids. Mellia's Clan Saiciae tattoo is on her upper chest, a stylized flower in shades of red surrounded by a green circle.
History Prior to 1625
Character generation interpreted
In 1582, the Lunars invaded Sartar. Sartar asked its allies in Esrolia to help. Mellia's grandmother, Grasta, head of House Saiciae answered the call. Grasta fought at the Battle of Grizzly Peak. She fell defending the Feathered Horse Queen.
Kirse, Grasta's eldest daughter, inherited leadership of House Saiciae. Kirse, still alive today, often had to defend her people and their allies. Kirse takes her duties as a noble seriously. Mellia is the third of her daughters.
In 1616, a large Barbarian Ditali army invaded Esrolia and the Holy Country generally. At the same time, Harrek the Beserk and his Wolf Pirates attacked from the sea. The God King Belintar disappeared and the normal tournament of the Masters of Luck and Death failed to produce the normal reincarnation.
Kirse fought the Wolf Pirates and won.
In 1618, the Solanthi warlord led an army into the Holy country, avoiding a major battle.
Kirse went out to fight and survived.
In 1621, the Great Winter struck, harvests were poor, and there was general hunger. Kirse and her people survived the Great Winter, but they were miserable.
1622 is the first year Mellia appears in recorded history. Technically that's 'Great Winter, year 2', but that year there's also a Civil War in Esrolia. Mellia, then a very young healer, went to heal those affected by the civil war. Mellia survived the Civil War uneventfully, but a Lunar Army invaded and besieged Nochet, the great city. Mellia was caught inside Nochet. For her work saving lives, Mellia was blessed by Queen Samastina and given many gifts.
Queen Samastina insisted that Mellia accompany the army of Nochet and Harrek the Berserk. They attacked the Lunars at Pennel Ford. Harrek went berserk and nearly chopped Mellia in two during the fighting, while Mellia was trying to get a fallen ally to the healers' tents. Mellia bears a hideous scar on her left side to this day. This is when Mellia decided that war is a form of madness.
1625 was an eventful year. Argrath, King of Pavis, marched on Sartar, to try and drive back the Lunars, but was beaten back. The Lunars tried to consecrate a new temple to the Red Goddess, but some Orlanthi heroquesters broke into the ceremony, and hijacked the ceremony to awaken the Dragon on which it had been built.
Mellia witnessed the Dragonrise.
Afterwards, Mellia went to see the Old Tarshites anoint a new King. She witnessed the Shaker Priestesses acclaim Unstey as King.
---
Logs
The following logs are sorted chronologically by year and season. These predominantly emerge from text-based role-play.
Meeting Mellia

1613: Varanis and Mellia are approximately 9 years old. Varanis has only recently moved to Nochet.

Tea Time

1615: Young Varanis took a tumble and Mellia will fix her (11 years old)
Party Planning with Mellia

1626, Sea Season, Movement Week, Clayday. Mellia comes looking for Varanis, who is skulking in her rooms in the Palace at Boldhome.

VS 026 Advice

Varanis — 1626 0590 Unwanted Advice ????, Sea Season, Stasis Week Context 1626, Sea Season, Stasis Week, Godday? Evening sometime. On the road to Clearwine. Varanis engages in a series of conversations. Events After the group has made camp for the evening, Varanis comes ...
VS 050 Uzko Aftermath

Varanis — 1626 0685 Uzko Aftermath ????, Fire Season, Stasis Week Context 1626, Fire Season, Stasis Week, Windsday After the fight at Greyrock Cave, where the Uzko Death Lord escaped. Events Here follows a series of conversations had by Varanis in the aftermath of ...

Psychology and Politics

Mellia — Pnp ????, Fire Season, Stasis Week Context 1626, Fire Season, Stasis Week, Windsday The party is now at the village of Greyrock Falls, having returned mostly intact from the fight in the cave. Events Mellia goes looking for Dormal before everyone ...

What price?

Mellia — Price ????, Fire Season, Stasis Week Context 1626, Fire Season, Stasis Week, Windsday The party is now at the village of Greyrock Falls, having returned mostly intact from the fight in the cave. Events Mellia goes looking for Varanis, probably during ...
Being Needed

Mellia — Being Needed 1627, Earth Season Context Late Earth Season, morning of the second day in the Blue Tree. Events It has been busy in the Blue Tree. Venlar brought Yamia, Yamia brought a wetnurse and an attitude, and the warriors have upped ...
Mellia Mends

1627, Dark Season: Mellia tries to help Venlar make amends after he got a bit heavy-handed in his match-making attempts.

Movement And Action

Mellia — Movement And Action 1627, Dark Season Context Dark Season, very early on. Spoilery for events in Boldhome over winter. Events Venlar has habits to stop himself from worrying about Mellia being busy or over-working himself. He practices with his sister, or entertains the ...